06-05-2021, 01:31 PM (This post was last modified: 08-05-2023, 06:59 PM by MangaD. Edited 26 times in total. Edit Reason: update )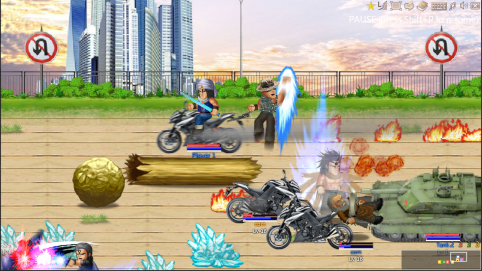 Authors
@
Lee Catalpa Tien
Downloads
https://www.mediafire.com/folder/s4hrerz.../Lee's+MOD
Features
Inside the game folder, you can find a
.txt
file with all the changes/additions. This file is written in
Chinese
however, so you have to translate it. Here are the most important features that were added in the HFT mod:
This mod introduces technologies to the HF world: tanks, motorcycles, ARs, and grenades. It includes new characters, new backgrounds, and new sounds!
New Characters
Note:
I
is a new key in this mod. 
J
= Jump, 
G
= Guard, 
A
= Attack
New Mounts
Map and level changes
Soundtrack
---
Chinese notes
Credit to @Anas-Dev for this thread.