News
Details

Written by:

MangaD

Hits: 885
Salutations, heroes! I bear good news: Hero Fighter X can now be played on recent Android versions—up to 11. As new Android versions are released, so will new APKs of Hero Fighter X v1.091 be published on HF Empire, as I have now found a way to achieve this. You may download the repackaged APK here. Unfortunately, some bugs still persist, namely the referral system not working for everyone, and the bug where heroes above level 105 will heal the enemies instead of damaging them. Moreover, it appears that it is not possible to buy gems, thus level caps cannot be removed and energy cannot be gained faster. I will see if I can address these issues in the future when I have more time.
On a different note, Coronation Wars mod by 不饿白帝BEBD has been published on HF Empire forums. This mod exists for a while now, but I hadn't published it yet because we had not been able to create an executable for it. Apparently, the mod is too large for the 32-bit Flash Player to handle, and unfortunately there is no 64-bit Flash Player projector for Windows. Until the beginning of 2021, Chinese players had been playing it using web browsers. But that option ended with the removal of Flash Player from web browsers in the beginning of 2021. Fortunately, it appears that HARMAN will keep maintaining and updating Adobe AIR, and thanks to it we were able to create a 64-bit executable for Windows. Have fun playing!
Details

Written by:

MangaD

Hits: 2503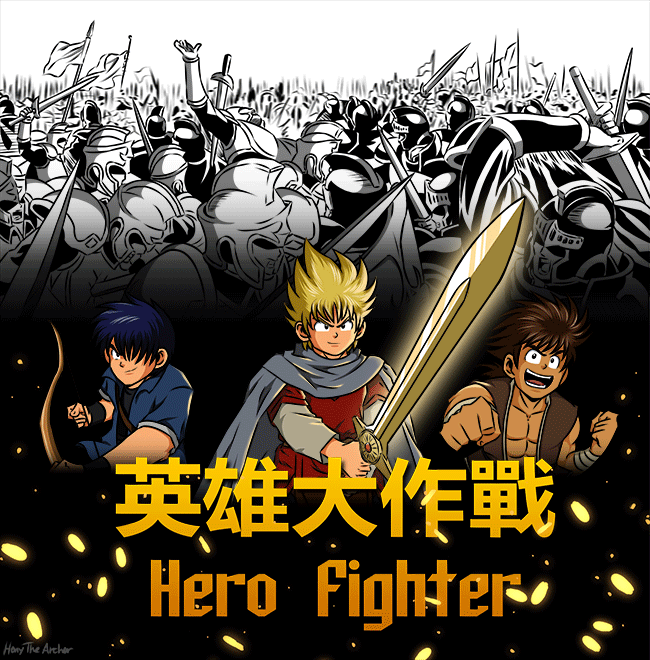 (Artwork by Henry The Archer)
10 years ago today, on 31st July 2009, the first version of Hero Fighter was released. Since then, many good things have happened. The game has evolved and an Android version was released. However, bad things have happened too.
Chinese hackers have disrespected the game by unlocking premium accounts for everybody, thus making the game's PC/web version unsustainable. They were also behind the downfall of the referral code system in HFX by flooding the server, as they yet again sought to unlock everything and kill the game's sustainability. Ztage's forum (aka. LF2 official forum) and HF Empire v1 have also been wiped out. After years of abandonment, hackers took over their outdated software and they had to be deleted.
Moreover, to those who don't know, Hong Kong—Marti's birth place—is currently suffering a series of conflicts with China. For all these reasons, Marti has moved to Australia and is currently working at Google in order to make a living, leaving him little time to work on Hero Fighter at the moment. As such, the game has suffered great periods of abandonment.
But let's not wither! The community has fought back and is not dead yet! HF Empire v2 was born, many public rooms were brought back (and better than ever!), HF Origins manga was created, as well as many awesome HF artwork! HF Story Editing also became a thing.
But now... to celebrate this day, I bring to you two new presents...
HF v0.7+ and HF Data Changing.
Happy playing!