News
Details

Written by:

MangaD

Hits: 5897
Has some of you may have noticed, a few European public rooms are up for quite a while now, since about the beginning of 2017. You can see the HF Room List here. How was this accomplished and why does it matter?
For those who are not contextualised, in the beginning of HF v0.7 and previous versions, there were plenty of public rooms worldwide. So, mostly everyone could play network mode by simply joining a public room and meeting other players online.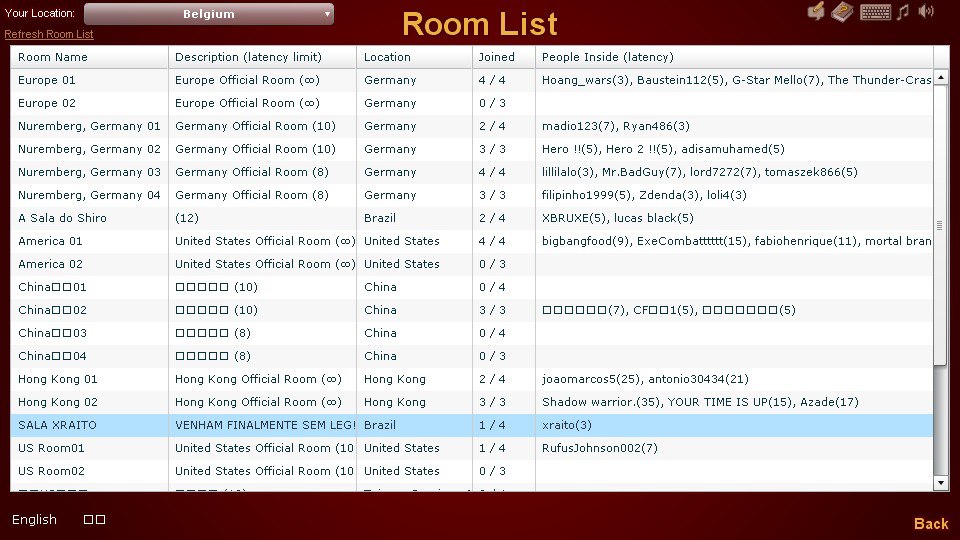 The delay, or lag, in game play was dependent on the distance and network stability between the players and the room. So, one of the problems with the public rooms dwells in the lag caused by the players who live far away from the Room Server location, and who will inevitably join it, as there may not be any closer Room Server to their location. For this reason, the more servers worldwide the better. And also for this reason there are rooms with and without latency limit for joining.
Details

Written by:

MangaD

Hits: 4482
Although released on other fansites, such as Hero Fighter Brasil and HF Facebook group, these spoilers were never released on the HF-Empire main site. These are old spoilers.
HF 0.65 – Battle Mode
After HF v0.6, a new mode was in the making – Battle Mode. Unlike the expectations of many players, the succeeding version did not showcase Story 7. Instead, they were surprised with a completely new mode, which was quite hard to make and gave Marti many work nights. This mode would later become the most cherished mode of the author, and play a major role in further releases and future plans.
Shortly before releasing HF v0.65, Marti Wong shared some of Battle Mode's spoilers

Hello everyone. Sorry for the delay of release again. I am still working hard on the coming version (v0.65).

Please don't mind my English as I need to type this quick.
In version 0.65, there will be battle mode.

Battle mode takes place in a huge map.

Attached is a 4 teams battle map. There will also be 3 teams map and 2 teams map.

Allowing different combination of battle: 2v2, 2v1v1, 1v3, 1v1v1v1, 1v2, 1v1v1, 1v1

In a battle, there will be castle, gold mine, camp.

Player can hire soldiers who come out from castle/camp.

Gold mine is for earning money. You can conquer other's gold mine/camp.

You will lose when your own castle is destroyed.

It is designed that Hero can perform some kind of "tactics" by spending tactic points. "Tactic" is something like massive magic on his/others troops. However, "tactics" feature may not be finished on time in v0.65.

Battle mode takes me SO much time on the design, tuning and AI.

Especially the AI, it is the first time in my life to code some kind of thing like that.

It is very difficult to keep AI smart and not consuming too much CPU (makes the game smooth).

I wanted to make story 7 a battle stage but it seems it is impossible to make it on time.

So I am sorry that there will be no story 7 and Eason in version 0.65.

When making Battle mode, I feel like making a brand new game.

The playing experience is totally different from any other modes before (and big different from the battle mode of LF2)

I wish it will be addictive.

Still hard working on it. I and my family got the flu which slows down my progress. Sorry for slow reply.

Source: https://www.facebook.com/groups/herofighter/permalink/10150477095342637/