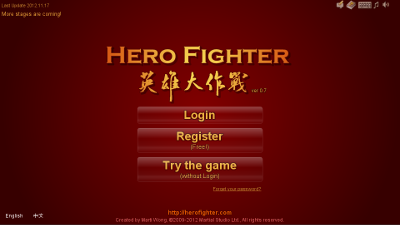 Hero Fighter version 0.7
17 Nov 2012
Copyright © 2009-2012 Martial Studio,
All rights reserved
System requirements:
| | |
| --- | --- |
| CPU: | 2.33GHz or faster x86-compatible processor, or Intel® Atom™ 1.6GHz or faster processor for netbooks |
| Memory: | 512MB of RAM (1GB of RAM recommended for netbooks); 128MB of graphics memory |
| Platform (downloadable version): | Windows XP or higher with Internet Explorer 8.0 or later |
| Resolution: | 1000x600 or above |
Note: The original installer of this game is not provided here due to the Hero Fighter Toolbar being considered a potentially unwanted program as of 2014, and hence getting the file blocked by most browsers. The original executable file has also been replaced with a different one created with Adobe Flash Player Projector, because of black screen bug on Windows XP and not opening bug on some reported cases in Windows 10. The original Room Server has also been replaced with a modified one that fixes many network bugs and provides new features.